WeP Print Release Controllers

Streamline and Low Profile Print Release Controllers (Printing Terminals):
WeP won't clutter up your office with bulky additional equipment.
Print release controllers are small and can be placed on a table or shelf, or mounted on a wall to save space. There are several models of WeP print release controllers produced by ePaper Ltd, compatible with any printer, MFP, MFD, copier or scanner.
WeP external print release controllers are compatible with all printing devices by all printer manufacturers, such as Epson, Lexmark, Samsung, Ricoh, Toshiba, Konica Minolta, HP, Sharp, Brother, Xerox, Develop, Kyocera etc.
WeP embedded print release controllers are supported by Lexmark, Brother, Toshiba, Develop, Konica Minolta, Samsung, HP, Xerox MFP printers. Support for Ricoh and Sharp coming soon.
All print release controllers support the same system functions, but the touchscreen and built-in models provide additional features. The models can be used together within in the same WeP system. All device types can work together on the same print server.
The WeP external controller (printing terminals) comes in two versions, both of which are streamlined and low profile:
WeP Touch Controller
WeP Light Controller
The table below indicates the differences between the two versions of print release controllers:
| | | |
| --- | --- | --- |
| |  WeP touch controller  | WeP light controller  |
| Printing Controller | √ | √ |
| Copy Controller | √ | |
| 2 x RJ45 ports | √ | √ |
| RJ11 port | √ | √ |
| RFID reader | Optional | √ |
| LCD screen 4'3 inch touch panel color LCD | √ | |
| Power supply unit 9 V DC | √ | √ |
| Copy cable | Optional* | |
| Wall or desk mounting bracket | √ | |
*Specific to each printer manufacturer
External Touch Controller

External Light Controller

Integrated Internal Controller

Configured through the SNT Manager or directly
through the device controller itself

No panel or keypad
No copy control (only print control)
Users simply swipe their cards to collect their print jobs

Supported by Lexmark, Brother, Toshiba, Develop, Konica Minolta, Samsung, HP, Xerox MFP printers. Support for Ricoh and Sharp coming soon.
Control is via the printer panel
Benefits of Both Types of External Controller
Users can access with ID card or code
For multifunction device, users can select Print or Copy
When printing, users can select multiple queued jobs
Jobs can be deleted through the Web-based interface or directly from the device controller
When copying, users see their username, the device name, the number of copies remaining in their quota, and the number of copies in the current request
A configurable timeout keeps user information from remaining on the screen (users can reset if more time is needed)
WeP in the Network
The WeP system is composed of the server software, the database (local or SQL), and a device controller that sits between the server and each physical device (printer, copier, or multifunction device).
The server software is installed on the organization's print server.
Internal WeP Device Structure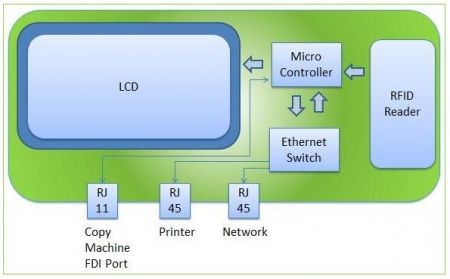 Internal WeP Device Structure.
The connection to the printer can be performed via an internal switch that does not interrupt communication with the printer (such as sending print jobs or communication and control protocols). This means that a WeP device controller can be located next to a printer without requiring an additional network outlet.
However, companies that do not allow connecting switches to the network can still work with the WeP solution as there is a logical connection between the WeP device and the printer in the print server.
The WeP device controller requires a unique fixed IP address, and the default communication protocol to the WeP server is UPD via the 7001, 7002, and 7003 ports. This means that the printer keeps working with the server as usual (with the standard Windows port).
Hardware Controllers Enable Top Pull-Printing Features
User authentication, document security, and print job management are all key functions of the WeP hardware controller. It can be used with leading printers (including Multi-Function Printers – MFPs), which do not have their own built-in interfaces, or in conjunction with MFPs that do not yet support embedded software. In both cases, the WeP controller provides a secure environment that allows users to manage their print jobs via a simple and attractive touchscreen.
To receive a complete list of supported MFP models, or additional information about WeP's hardware solutions, contact us.
Card Reader Authentication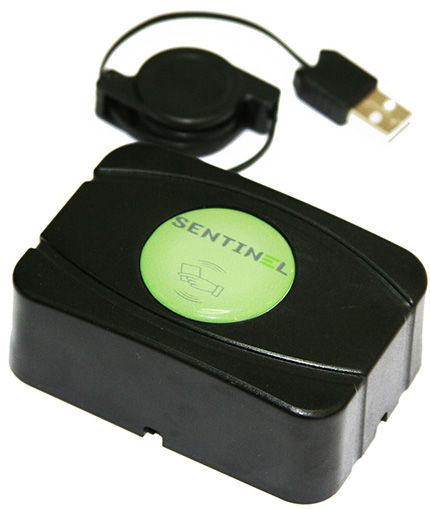 In the interests of security, the Sentinel USB-attached card reader enables authentication by card. Readers are useful for WeP embedded implementations which, although they may not require a controller, would benefit from this way for users to authenticate themselves.
The controller also supports barcode scanners and special third-party party readers. For example, WeP supports the following contactless smart card and proximity card readers: HID, HID iCLASS, MIFARE, indala, MAGNETIC STRIPE readers TK 1 and TK 2.
For even greater security, WeP supports two-factor authentication, for example, card and PIN, or card and username/password. In addition, users can register their new cards independently in the WeP system at the MFP themselves, reducing the need for IT resources.
Streamlined Printer Management for In-house and Outsourced Services Options
Organizations with more than one brand of MFP will appreciate the ability of the WeP hardware controller to provide the same interface, features, and management capabilities for all MFPs in the enterprise. If a managed print services provider handles the organization's printing, the WeP hardware controllers greatly simplify their efforts. All management and maintenance are streamlined because the entire printer fleet can be managed and maintained as a whole, without having to address each MFP's individual requirements.
WeP controllers are developed, produced, and tested for the leading standard and Multi-Function Printers (MFPs) in direct cooperation with their respective manufacturers.